Believe it or not, sanitation plays a large part in taking care of inventory. Unified Janitorial Services provides warehouse cleaning services to the Bay Area, so you can give customers peace of mind by keeping their items in a place that's safe and clean! 
Our experienced cleaning team is equipped with the proper tools to tackle your industrial space, whether it's a manufacturing plant, distribution center, or public facility. 
Here's what our warehouse cleaning services include!
Scheduled Janitorial Services for Warehouses & Distribution Centers
No two warehouses are the same, which often creates a challenge for janitorial cleaning companies. With over 25 years of commercial cleaning experience, our staff is prepared to help your warehouse look pristine ‒ while you focus on managing your facility and employees. Unified Janitorial Services will clean everything, including loading docks, storage racks, and shipping pallets. 
Our warehouse cleaning services can be performed on a daily, weekly, or monthly routine. Plus, we're a locally-owned and operated business, which means we're able to respond to your industrial workplace's needs right away! 
Our scheduled janitorial services include
Sweeping & mopping -

Warehouse floors and loading docks are swept and mopped with an industrial-grade cleaning solution

.
Vacuuming -

All floors (concrete, stone, carpet, etc.) will be vacuumed, including storage rooms, warehouse offices, and reception areas.

Carpet cleaning -

Carpeted floors or rugs will be scrubbed with a mild disinfectant. (

Commercial carpet cleaning

is only available for our regular clients).

Dusting -

We'll dust all warehouse furniture, including desks, cabinets, and storage racks.

Window Cleaning - We use a specialized cleaning solution to eliminate dirt, pollutants, and buildup from windows and reflective surfaces. (Window cleaning is reserved for our regular clients. We will not perform individual window cleaning jobs).
Bathroom cleaning is essential to creating a safe environment for warehouse employees! Unified Janitorial Services will refill dispensers, scrub toilets, and mop bathroom floors. Bathroom trash will be emptied and replaced with a new liner.
Our bathroom deep cleaning services also include
Disinfecting touch-points - C

ountertops, door handles, and bathroom appliances will be wiped down. We'll also scrub toilets, sinks, and showers with an industrial-strength cleaning solution.

Wiping mirrors - W

e use a gentle cleanser to wipe your warehouse's mirrors and reflective surfaces.

Refilling dispensers -

Paper towels, toilet paper, and hand soap dispensers will be refilled.
COVID-19 Sanitation for Your Warehouse
A steady flow of warehouse employees means your workplace can quickly become a hub for viruses and airborne diseases.
Our COVID-19 sanitation services include using industrial-strength products, registered by the Center for Disease Control (CDC) and Environmental Protection Agency (EPA) to disinfect touchpoints, and ensure no bacteria, viruses, or airborne diseases remain. 
Our COVID-19 sanitation services include
Sterilization of bathrooms, floors, and equipment

Removing trash and other contaminated materials

Wiping of ceilings, piping, lighting, and rafters

Scrubbing of heating, ventilation, and air condition (HVAC) systems

Disinfecting common touch-points (door handles, shelves, heavy machinery, etc.)
Let us know if you have any specific concerns about your building's COVID-19 sanitation. Our team will work with you to set up a routine cleaning schedule that meets the needs of your Bay Area warehouse.
Warehouse Floor Maintenance Services
Warehouses see a constant stream of foot traffic, making it hard to keep floors clean. Oftentimes, something as minor as a footprint can lead to an accumulation of grease and grime ‒ creating a hazardous environment for employees. 
In a commercial setting, we recommend routine vacuuming, sweeping, and mopping to remove debris that can dull your warehouse's floors. Whether your warehouse has stone, concrete, or carpeted floors ‒ we'll create a program adapted to the specific needs of your business.
At Unified Janitorial Services, we pay attention to every detail. We'll use the latest equipment and floor-cleaning techniques to ensure your floors are free of stains, grime, and etching. Our team of cleaning experts will also apply a specialized solution to remove dirt and residue from stone or concrete floors.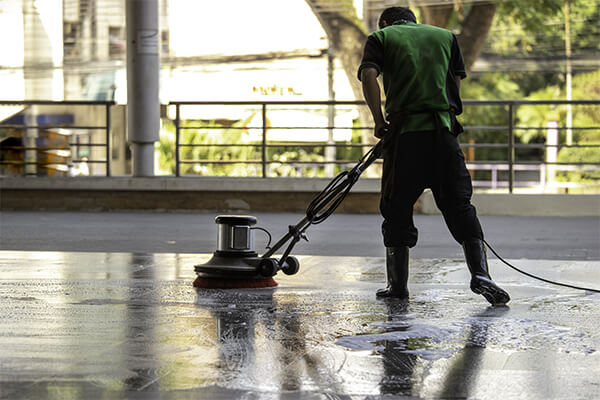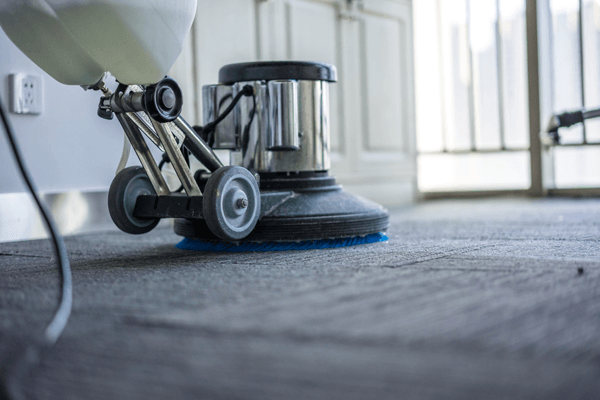 Spills on rugs and carpets will be thoroughly scrubbed using vacuuming, dry-cleaning, and hot water extraction methods. A protective solution is also applied to preserve any high-traffic areas, such as offices, storage spaces, or reception.
Schedule Warehouse Cleaning in the Bay Area